Tools For Your Marketing Strategy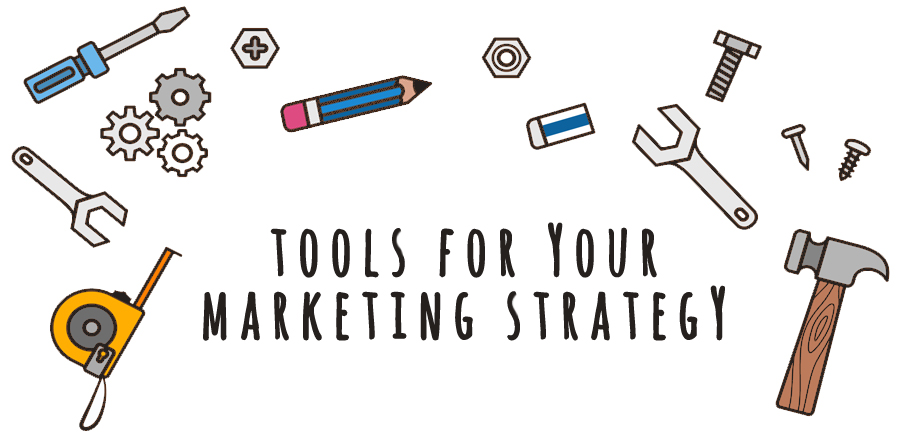 Today's marketers are jacks of all trades. This is exactly why we heavily depend on the tools we use. Whether we're keeping track of our data or maximizing our social networking efforts, relying on the right set of tools means not only saving time, but also maintaining our clear minds.
However, today's digital marketing landscape is changing at an astonishing rate and the number of tools to discover is constantly rising. Sometimes, it's pretty difficult to keep pace with them all. For me as a digital marketer, this is one of the most common problems I face. This is exactly why I decided to make a list of tools that might come in handy for both newbies and digital marketing veterans.
Let's check them out!
Content Creation
Content is the backbone of your digital marketing strategy and that's why it needs to be done right. To deliver well-optimized content that engages, you need to keep up with the shifts in your niche, give intelligent insights into trending topics, and answer popular questions. However, to create easily digestible content that resonates with your audience, you need to make it visually appealing.
As I don't have any graphic design experience, I always go with simple tools that help me select and edit my photos like a pro. When it comes to choosing images, Burst is a personal favorite because of the ease of search and the number of high quality and authentic images that cannot be found on other free stock photo sites. Most importantly, it's free.
Another free tool I'd like to mention is Canva, which is my ultimate resource for content creation. With this design tool, you can either polish up the photos you already have or design brand new ones. Based on super easy drag-and-drop features, it arms you a wide range of easily customized templates, fancy fonts, and custom image sizes for basically every social networking channel.
Content Curation
Sharing relevant content strategically through the right communication channels is imperative for any digital marketer who wants to stay relevant. Only this way can you keep up with your competitors and reach as much of your target readers as possible. However, we don't always have time to fill our content calendars with authentic posts we create on our own. This is exactly when content curation steps in. And, to make the most of it, you need to have the right content curation tool on hand.
I've been using Feedly for some time now, especially because it helps me automate the process of content curation. Here is how. First, charged with RSS feed, this tool curates content around specific keywords, topics, and domains. Second, it helps you monitor various blogs you are interested in, collecting all their recent posts into a feed you can easily monitor. Apart from arranging content into easy-to-read sections, you can also flag it to and read it later. Finally, it helps you follow the industry influencers so you can stay on top of the trending conversations and deliver content based on them. The only downside of Feedly is that it doesn't pull images.
Content sharing
With so much work put on content gathering, don't forget to share it with your community across all channels. Hiplay tool can help you spread the message across all main social media networks. But don't forget to explore other channels like Telegram groups, Whatsapp or Reddit.
Off-Page Backlink Analysis
Old school SEO was focused on the backlink quantity, but today, it goes much deeper than this. Modern off-page SEO is all about the quality and relevance of backlinks. Based on a number of quality links leading to your content, Google will determine how good your site and content are. This is exactly why off-page backlink analysis is fundamental to your SEO strategy. There is a plethora of amazing tools you could use, from Majestic to SEMrush, but for me, Ahrefs is one and only.
With their Backlink Checker, you can easily track backlink growth, see a total number of backlinks and their types (dofollow/nofollow, inbound/outbound, broken links, etc.) and referring domains. You can also analyze anchor texts to see how your competitors optimize their backlink profiles, as well as disavow any spammy links, and export the data you get into PDF or CSV files. Also check this post about long-tail keywords that can help with your content strategy and this great guide on anchor text.
Team Collaboration
Collaboration between team members directly impacts the outcome of any task or project. This is exactly why all digital marketers need to invest in uninterrupted communication and data sharing. There is an abundance of team collaboration tools, and one of the most popular ones is Slack.
The reason why this tool has won my heart is its ease of use. It offers instant messaging, simple data sharing, and well-crafted message search options. Most importantly, it is integrated with a wide range of marketing, project management, office management, sales, productivity, communication, design, and developer tools, enabling you to keep track of every aspect of your marketing campaign and focus on what really matters.
Client Reporting
Client reporting is the nerve center of fortifying relationships with your clients. However, I must admit that those marketers that decide to collect and organize all their data and write extensive reports manually are more than brave. They are true heroes. For me, on the other hand, client reporting is synonymous with Reportz.
This intuitive tool helps me keep track of only those metrics important to me at the given moment and create my own, customized dashboards, combining the widgets from various platforms. When choosing a reporting tool, you should also take the visual appeal of your reports into consideration. Every quality reporting tool gives you the opportunity to personalize your reports by selecting a dashboard URL, adding your logo, and choosing the font type and colors.
Social Media Ads
Sometimes, organic social media traffic is not enough for you to make a sound social media marketing campaign. With paid social media tools, you will manage to get your brand in front of a massive community of active users you'd otherwise be unable to market to.
For me, Facebook Power Editor, a platform for building and running advanced advertising campaigns, is easily one of the best social media marketing tools. Facebook is constantly improving it and adding an abundance of amazing advanced features. For instance, you can manage multiple ads at once, monitor their performance, create custom reports, and target a specific group of people. Most importantly, as this is Facebook's own tool, you don't have to pay any third-party fees to create and manage your Facebook ads.
Additionally, I'd also recommend you to advertise through Twitter Native Platform, especially if you're targeting mobile users. According to some recent stats, 86% of Twitter's ad budget comes from mobile devices. This platform offers some amazing features, such as keyword targeting. Put simply, whenever a user tweets something or comments on a tweet using a specific phrase, they will be targeted.
Email Marketing
Email marketing is still one of the most effective and profitable digital marketing practices in terms of ROI. However, to make the most of this technique, you need to automate it. I've used a myriad of email marketing tools so far, but MailChimp is definitely my go-to tool for creating email marketing campaigns.
The fact that over 250 billion emails were sent via MailChimp last year makes it an absolute winner in the email marketing ecosystem. What I love about this platform the most it's its usability and customizable prices, depending on the size of your email list. Apart from paid versions, they also offer a "forever free" plan, which may be an amazing starting point for inexperienced marketers that are just getting familiar with the basics of email marketing.
To Wrap it Up
"A tool is only as good as its user," they say. In this case, it seems that users are only as good as their tools. Hopefully, this brief guide will help you choose the right set of tools and take your digital marketing strategy to a whole new level.
Which tools do you use in your marketing strategy?
Automate your social media the smart way
Automatically re-post best content with Hiplay