The One Thing People Fail To Do On Twitter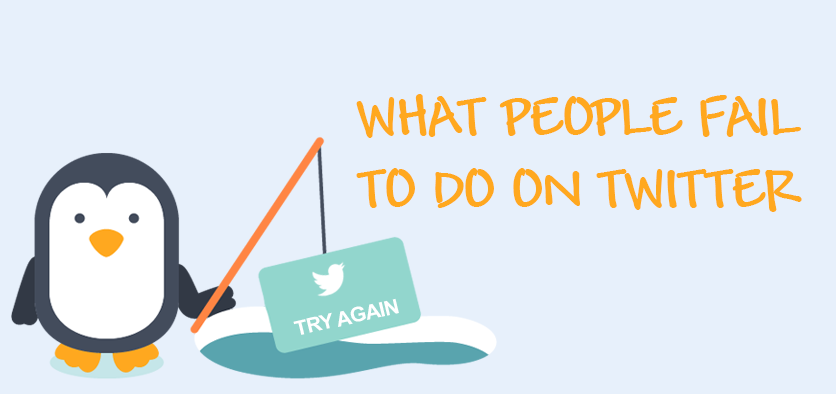 What can you do with a $5 marketing budget for Twitter? You can buy yourself 1K followers on Fiverr. But of those bought followers, who will retweet or comment on your tweets? Probably zero. And that's the underlying reason your Twitter marketing suffered.
Twitter is a noisy world with more than 500 million tweets, which means our Twitter streams are flooded with new notifications every second.
When we are stuffed with information right in our face, there are three ways to go about decluttering our feeds:
Unfollow you
Mute you
Mental block your feeds
From a marketing standpoint, all three things are deadly to your Twitter marketing.
There are dozens of posts on the internet that teach you how to hack through the noise on Twitter. But there's something much more fundamental that needs to be done first before you can apply those tips and tricks.
That's to find your first 100 die-hard Twitter Followers.
Your First 100 Die-Hard Twitter FollowersCLICK TO TWEETThis idea isn't new. In fact, it's been circulating the internet from singers to bloggers, like Tim Soulo.
Here's from Brain Austin Witney:
"an artist who has 5000 hardcore fans to give him or her $20 each year — be if from CDs, ticket sales, merchandise, donations, whatever — stands to make $100K per year, more than enough to quit the day job and still have health insurance and a decent car."
This idea can translate to our die-hard Twitter fans. First, let's break it down a bit.
This is what a passionate fan looks like on TwitterCLICK TO TWEET

A passionate Twitter fan means that he/she will:
Retweet your tweets
Comment on your tweets
Participate in your Twitter chats
When you have 100 fans on your Twitter, then you'll have a sustainable Twitter marketing running on this system. That's 100 fold more reach than having 1K bought followers. Crazy right?
So what did we learn here? Quality over quantity.
How to Influence People And Gain Fans On Twitter
With automation tools and hacks available on the internet, it's easy to forget that gaining a fan takes the most primal form of human relation.
You need to care and be curious about your fan, more importantly, you need to be authentic when you approach them.
It's not about making that traction, let it be retweeting your stuff or buying your product. It's about making a friend.
Below are three psychological approaches that I use when interacting with people online. As a result, I've had loyal fans fall right on my lap.
Propinquity Effect
The more we meet and interact with people, the more likely we are to become friends with them. -Buffer
How did I put this approach to work for Rabbut? Let me tell you.
Rabbut is an emailing tool for bloggers who blog on Medium and other self-hosted blogs. An appropriate place for me to hang out will be on Medium.
As a blogger, I know it feels good when someone comments, likes, or recommends your post. With that in mind, I go to posts that I enjoy and tell writers how I feel.
Note: I don't mass spamming in the comments section with "nice posts" or "good job!" That'll trigger the spam alert for writers and bloggers, even if you really mean it. Put a few more minutes and explain what's so nice about their post.
What I've found interesting is that the writers I've interacted with on Medium started to interact with me on Twitter and Instagram. That's a sure sign that they are die-hard fan material.
Conformity and Social Influence
We change how we behave to be more like others. -Buffer
How did I put this approach to work for Rabbut?
As a frequent writer on Medium, I make sure I use Rabbut as I have intended for Medium writers to use. I implement an email subscription box in all of my blog posts, asking people to subscribe if they'd like to receive my latest post in their inbox.
Overtime writers, readers, by-passers take note of that email box and Rabbut as a brand name.
And you know what? Without me asking Medium users to use my product, by-passer writers install the email sign up box in all of their posts. Pretty awesome, huh?
And to top it off, those who like Rabbut, promote it for us on Twitter.
Reciprocity
We feel obliged to give back to people who have given to us. – Buffer
Although I usually help or do favors for people without them asking or expecting anything in return, most people will notice the gesture and return my favor by retweeting my tweets. That's when I feel indebted to return the favor – it's like an itch that needs to be scratched. That's the beauty of reciprocity. Both party benefits.
Of course, there're some outliers on the internet because they are an authority. So don't put your eggs all in one basket and expect these people to help you just because you have helped them.
Where's Your Die-Hard Fan?
Hopefully, by now you're set out to find your fan on Twitter. Start slow, take some time to build connections to people around the net. Don't focus on what you'll get out of it. You can sell on your service later. Instead, let them be your brand advocate for your brand voice and culture. It's much more effective for marketing than direct sell.
How did you gain your first loyal fan on Twitter? I'm interested to hear. Leave a comment below (I read every one).
Assets credit goes to Freepik
SaveSave
Automate your social media the smart way
Automatically re-post best content with Hiplay