New Hiplay feature – Categories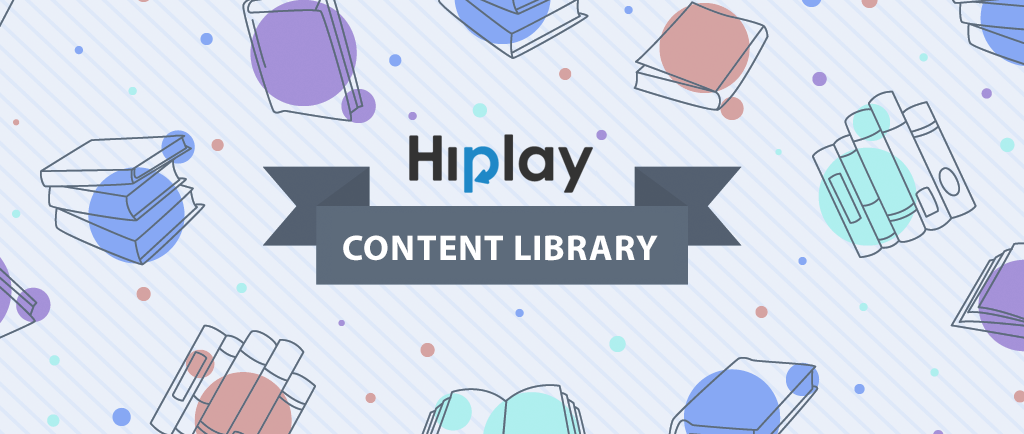 At Hiplay we try to create easy to use tool that helps to save time and get better results from your social media efforts. Feedback from our users really helps to speed up our tool improvement process. We have a lot of new features in the pipeline!
One of the most requested feature so far was content categorization. And this totally makes sense. Categories give more flexibility and control. We are happy to announce that content categories are now available in Hiplay!
Meet the Content Library
Current Hiplay customer probably noticed a few changes in the dashboard. Before the change, only evergreen content was saved and added to the Evergreen tab. Now there is a Content Library tab and all evergreen posts are automatically added to the default Evergreen category.
Save posts to the Content Library
In the Content Library you can see all your saved posts. Every post in the library must have a category. There are two ways to add post to the library:
Create a new post and select category
Add post to the library from the Unprocessed tab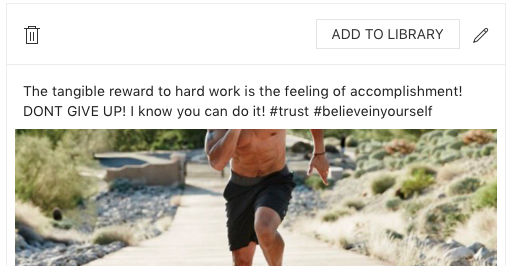 In the Unprocessed tab you will always see most recent posts from your Buffer history. If you want to save post to the default Evergreen category – simply click on the "Add to Library" button. If you want to manually select category – click on the pencil icon and select relevant category from the drop-down menu. You can always change post category later.
See posts saved under a given category
Content Library filter allows you to easily sort through your posts. Simply tap on the "All categories" filter to choose the category you want. All posts saved to that category will be shown. When you want to return to the unfiltered view, simply set the filter to "All categories" again.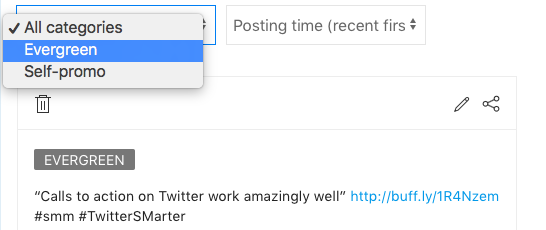 Change post category
Every post in the Content Library must belong to the category. If you want to change post category – click on the pencil icon, select another category and save the post. You can do this anytime with all your posts.
Categories
You can manage your categories in the Categories tab. The default Evergreen category is the only one that cannot be edited or deleted. All other categories can be managed any time.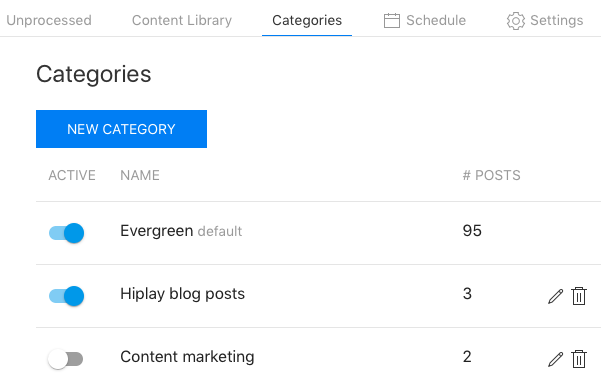 Create new category
Click the "New Category" button to create a category. If you want to rename your category – click pencil icon next to the category. It will change its name without affecting its content.
Some ideas for your categories:
Promotional content
Inspiring quotes
Seasonal content: spring, summer, fall, winter
Active category
You can activate or deactivate your created categories. For example turn off Winter category during summer time or activate Easter category during the holiday season.
Only posts from active categories will be user for posting unless you select specific category in the Schedule. New category is inactive by default – do not forget to activate it if you are ready to use it for posting.
Delete category
You can delete your empty categories by clicking on the trash bin icon next to it. If category you want to delete has posts in it  – please delete all the posts first and then delete the category.
How many categories can I create?
The number of categories you can create depends on your selected plan. Limit of categories is per profile. This means each profile can have different categories.
Basic plan can have up to 3 custom categories
Popular plan – up to 10 custom categories
Advanced plan – up to 20 custom categories
All profiles have a default Evergreen category. It doesn't count in the limit.
Hope you will find Content Library useful. And please comment if you have any questions.
Automate your social media the smart way
Automatically re-post best content with Hiplay